Taken from Crossroads Reporter, November 29, 2006.
Local historian completes book on infamous Lamar County native & train robber, Rube Burrow
By Rhonda Weeks
CR Assistant Editor
(Sulligent) – According to legend, notorious outlaw Rube Burrow once said, "I went home one night, but there was so many detectives around, and I didn't want to kill 'em, so I went right off."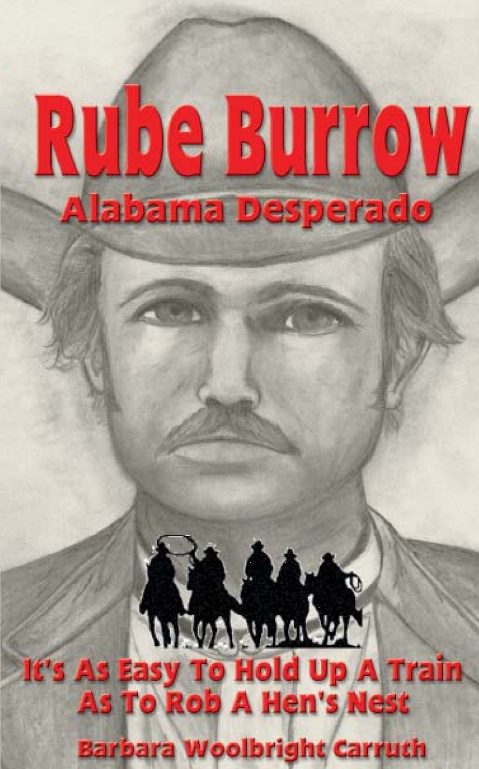 Cover of Carruth's book about Rube Burrow
That Rube once said, "Stealin corn is out of our line of business."
The colorful life and history of Rube Burrow, notorious train robber and outlaw has been researched and documented by Barbara Woolbright Carruth, local historian, in her new book Rube Burrow Alabama Desperado.
"Legends of Rube Burrow have been told for over one hundred years. I never tire of hearing another Rube Burrow story" said Carruth when asked why she has spent so much time researching this latest book.
"I am printing the highlights of my findings; what I think is most interesting. To print all I have found is not affordable. This is not a literary work. I do not pretend to be a writer. I am a collector of historical information," she added.
-
Carruth is also the author of Images of America: Lamar County.
The legends surrounding Rube Burrow have been told for generations in this area, but for those who have missed out, Carruth's collection should be a fascinating introduction.
Rube Burrow Alabama Desperado is available for purchase at several locations around Vernon and Sulligent.
Or you can find out more information about the book and order one by contacting Carruth at (205) 698-9427.
Return to Rube Burrow main page.