Thomas Jefferson Hankins, Crossville, Lamar County, Alabama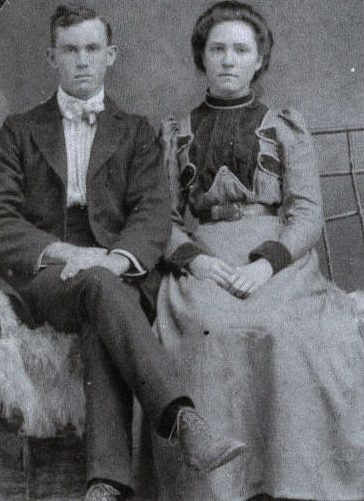 Thomas Jefferson Hankins and Cora Black Hankins
Thomas Jefferson Hankins, born August 20, 1884, in Lamar County Alabama. He was the 11th child of Samuel Houston Hankins and Vicie Langston Hankins. His mother died in 1891 and he was raised by his father and stepmother Alcie Walker Hankins.
Thomas Hankins married Cora Adline Black in 1902. He built a house in 1915 with local help at a cost of $32.00 for windows and doors with lumber from his farm. Hankins died at the age of 97 years.
Legends of Crossville, Alabama
Thomas Hankins said "There are a lot of strange things I remember, when Mrs. Peeks was "lying -a-corpse" there were some people sitting up. It was about midnight when we heard a sound like a baby crying that came from under the house. It went on for about an hour, and we never went under the house., but we took up some planks and shined a light. We'd put the planks back down, and it would sqawl again. We never did find what it was. I'd never tell that but William Collins was there and he heard it too. That happened about where you turn off to go to Liberty Church. They call that Thunder Hill, because you can hear it thunder there in the daytime, when the sky is clear.
And, well there was always something mighty peculiar about where I used to live. It just happened once in a while, but sometimes somebody would holler 'Hello'. We couldn't tell who it was. I don't guess anybody would ever believe this, but folks said it was a ghost."
Information for this article taken from Lamar County A History to 1900 by Rose Marie Smith and The Heritage of Lamar County, Alabama.
Email MS B
This page owned by Barbara Woolbright Carruth, Sulligent, Alabama. All information on these pages is furnished for the free use of those who are researching their family history. Any commercial use, or other electronic posting of any files/pages without the consent of the MS B or donor of material is prohibited.