Lamar County Kin
By: Barbara W. Carruth
Appeared in The Lamar Leader July 21, 1999
Appeared in The Lamar Democrat August 25, 1999
I welcome any comments that you might have about this column. I want it to be our ' Lamar County Kin". Several called me with information after last week's article. Through this column I hope that we can all learn more about our past, places of interest and people in our Lamar County.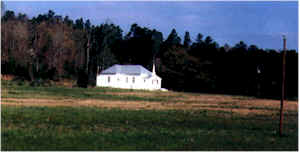 The Shiloh North Methodist Church located in the Lost Creek Community ( also known as the Shiloh North Community ), about 5 miles northwest of Sulligent, Alabama, records date back to 1881. The church was one of a seven church circuit. According to the Detroit United Methodist Church history, the circuit consisted of the Center Point, Detroit, Ebenezer, Henson Springs, Shiloh North, Pine Springs and Wesley Chapel Churches. The Detroit Church was located in Detroit. The Ebenezer Church was located on County Road 19 near the border of the Lamar and Marion County line. The Henson Springs Church was located near the intersection of County Road 16 and River Road. The Center Point Church was across the Mississippi State Line in the Sipsey Fork Community. The Ebenezer, Henson Springs and Center Point Churches do not exist today. In 1913, the seven church circuit was reduced to a four church circuit known as the Detroit Circuit.
Today Shiloh North is not part of a circuit but has a full time pastor.
In the minutes of a Church Conference that was held at Shiloh Church on December 22, 1895, Robert Wilson was pastor. The Church is listed as the Methodist Episcopal Church, South, of the Jasper District North Alabama. William C Evans was elected Secretary. Brother Tom Evans, Class Leader, made his report that two class meetings had been held with reasonably good success. J. C. Mozley, Superintendent of Sunday School, made his report that the School was doing well and that literature of their own church was being used and would continue through the winter. The Stewards had no report. The next Church Conference was set for the fourth Sunday in February 1896.
Shiloh North Church hasn't always been at its present location. The church was located near the Carden barn, but in the early 1900's, the woods nearby were being burned , as was a common practice in that day. The fire burned out of control and the church building was destroyed. Worship services were held at the Shiloh School , which was located across the creek until a new building could be built.
According to a letter written by the late Mrs. Ruby Walden Wright to the Church, everyone in the community came together and made plans for a new church building. The lumber for the building was sawed by her husband, William D.
(Dick ) Wright and hauled to Sulligent where it was dried and finished. The men in the community all helped in some way and of course the women did too, with cooking for the men, while they worked and after completion of the new building, cleaning and making ready for services to be held. The new church was finished around 1920.
It has been a tradition for revival services to begin the second Sunday of August each year.
A list of early members or families in the church found, believed to date early 1900. Persons listed were: James D. Blaylock, Dona Blaylock, William H. Blaylock, Eliza A. Blaylock, Thomas E. Blaylock, Adina T. Blaylock, James N. Blaylock, Malinda A. Blaylock, John R. Blaylock, Maud V. Blaylock, Ida Blaylock, William Blaylock, Lula J. Blaylock, Samuel F. Blaylock, Redona Blaylock, John Escar Blaylock, Jeffie Lona Blaylock, John Robert Blaylock, Walter G. Blaylock, William Blaylock, JR, Willie Franklin Blaylock, Vera Blaylock, Martie Brandon, Starling Camp, Zula Camp, Clyde Camp, Mary Malinda Camp, Martha C. Camp, Midas O. Camp, Ila L. Camp, Thomas B. Camp, Ella Camp, Jeptha Camp, Bennie Cox, Adline Carden, Robert Carden, Sarah Jane Carden, Mollie Dorsey, Narcissa Jane Evans, Nancy Ann Evans, Benjamin W. Evans, Elizabeth J, Evans, Ardis W. Evans, Wilma L.Evans, Verland L. Evans, William C. Evans, Campie O. Evans, William T. Evans, Adelia B. Evans, Walter G. Evans, Eddie Evans, James T. Evans, Marrie R. Evans, Anna Bell Evans, Ida J. Evans, Emma Jane Evans, George L Evans , William E. Evans, William Ives, Buel C. Irvin, Emily Irvin, Icy V. Irvin, Elizabeth Jaggers, Oscar Jaggers Azale Jenkins, Bessie Jaggers, Lela Jaggers, W. W. King, Sarah King, Clarence King, Clyde King, William Claude King, Zadie Lawson, Myrtle Lawson, James L. Mozley, Arvilla Mozley, Ellen Mozley, Merlie Nichols, Cara May Neathry, T. G. Nethery, Eveline N. Pearce, Ola M. Pearce, Roft S. Pickle, Susan E. Pickle, Ada Pickle, Archie Pickle, Lyde Paul, Grady Paul, James M. Ray, Malinda E. Ray, Francis M. Ray, S. M. Strawbridge, Fennie Strawbridge, Nollie Strawbridge, Eddie Strawbridge, Margaret Swain, Hartie Swain, Zora Swain, W. T. Wright, Luella C. Wright, Willie Wright, Vera Wright, Lillie Wright, A. W. White, Pink White, Ellis White, Lonie White, Lula White, Zena Warren.
The oldest living members today are Dora Camp, Avist Carden, Connie Cobb & Lula B. Woolbright.
There is a web page for the Shiloh North Methodist Church at http://www.fayette.net/carruth/shilohnorthchurchhistory.htm
Queries of the week:
MS B,
I am looking for information on Mary Elsey Lona Lou Ethel HICKS Harvell was born in Lamar Co AL on 29 March 1894. Her parents were Columbus (Lum) Washington HICKS and Margaret Elizabeth (Liz or Cissy) PRICE Hicks. Liz was b. in Lamar Co AL 1876.
Lum was the son of Euphania Lucindy/Lucinda HICKS and likely his
father was Pleasant HICKS (cousins?), and he was b. in 1874 AL (likely
in Jefferson Co AL).
Liz's parents were LeRoy/Lee Roy PRICE and Mary ROBINSON Price.
Both Leroy and Mary died in Lamar Co AL and are buried at Liberty
Freewill Babtist Church Cemetery located near Crossville in Lamar Co.
Mary was b. 1851, d. 1929. Leroy was b. 1842, d. 1902.
Mary Robinson Price's parents were David ROBERTSON/ROBINSON,
b. ca 1823 d./disappered 1860 and Adeline SNELL Robertson/Robinson,
b. 22 April 1822 SC?, d. 8 June 1895 and is also buried at same cemetery
as her daughter, Mary Price, in Lamar Co AL.
The deed for the Blooming Grove Church in Lamar Co AL was signed by
George Robertson on behalf of his mother, Adeline Robertson, who donated
the land for the church.
I'd be happy to exchange and share info about any of my direct
ancestors listed above, plus others not listed who were siblings, grandchildren, etc.
Thanks ever so much. Bless you.
F. L. Sandy Cooper
MS B,
I am looking for info on a Tom Sandlin that married a Martha Beard. They
had 3 children. I would appreciate any info I can get about them. Also my great grandmother Zelphia A. Davis had a brother William"Buck" Davis that married Hester Jane Noe b 1845 d abt 1891 in Indian
Territory. I would love to swap info about them if these names fit into anyone's family history
Thank you,
Tracie
Hi, my name is Helen Box, I am researching the Box and Bickerstaff families , they came from the Sulligent, Al. area. I live in Liberal, Ks.
Husband of 52 yrs. 3 children , 9 grandchildren and 6 greatgrandchildren. I was a Fox and married Harold Eugene Box in Ada, Ok. in 1947. Any help would be greatly appreciated, Sincerely, Helen
If you have information on the above queries,or if you have a query that you would like posted here in this newspaper or on the Lamar County Kin Web Page, you can call me at 205 698 9427 after 7:00 p.m., write me at P. O. Box 579, or email me at coco@fayette.net.
Tip for the week:
I am sensitive to chemicals so a little problem like ants in the house is a big problem for me because I can't just get out the ant spray and spray! Last week I had a few ants and a friend of mine saved me with this tip for getting rid of ants: Mix 2/3 cup of water, 1/3 cup white vinegar, and 2-3 Tablespoons of dish soap. Spray where ants are marching. It works and you aren't using chemical that could make you sick and another plus, it is cheap!
See you next week!
Note: Barbara W. Carruth lives in the Lost Creek community near Sulligent, works with the Farm Service Agency in Hamilton, AL. She is marrried to Dewey Carruth, has two sons, Barry, currently serving with the United States Air Force in Saudi Arabia and Berney, a truckdriver, who lives near Detroit;AL; two daughters in law, Jenny and Samantha; three grandchildren, Casey, Summer and Annia.
Return to Lamar County Kin Index