Lamar County Kin
By: Barbara W. Carruth
Appeared in The Lamar Leader August 4, 1999
Appeared in The Lamar Democrat September 1, 1999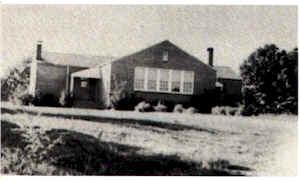 Pine Springs School 1953
The Pine Springs School, which was located north of Sulligent, Alabama in the Pine Springs Community was the result of the consolidation of the Shiloh North and Pine Springs Schools in 1936. The Pine Springs School was a three teacher unit. The building used at the time of consolidation was a white frame structure and stood adjoining the site of the Pine Springs Methodist Church. A modern brick structure was erected and first used in 1936. This site was located on Highway 17. Good equipment was placed in the building and added to each year.
The building and equipping of one of the nicest lunch rooms in Lamar County, at the time was the culmination of several years working and planning on the part of patrons and administration. Running water was added in the lunchroom during the 1951-1953 school, by the installation of an electric pump.
In 1953, Mrs. Lillian Cargile Sizemore was Principal as well as teaching 5th and 6th grades. Other teachers were Mrs. Evangeline S. Jackson, 3rd and 4th grades, and Mrs. Virginia S. Mayes, 1st and 2nd grades. Mrs. Eva Lee Irvin was Dietitian. A. A. Chandler was the Superintendent of Education in Lamar County
Pupils in 1953 Class were:
First & Second Grades: David Cantrell, Catherine Clifton, Curtis Pace, Carolyn Robinson, Mike Cox, Pama Jean Herron, Floyd McKay, Charlotte Phillips, Eddy Dill, Carolyn Chaffin, Roger D. Cantrell, Clayton Johnson, Jo Ann Garret, Eary Warren, Lloyd McKay, Dorothy Pace, Barbara Woolbright, Mary Sue Cole, Roland Burks, Elizabeth Homan, Donald Flynn, Wanda Lou Brown, Noble Duncan, Jimmy Hawkins, Sherry A. Herron, Clinton Pace.
Third & Fourth Grades: Jerry R. Minor, Gene Cantrell, Reuben Pace, Rachel McKay, Jo Ann Chaffin, Barbara Flynn, Wilma D. Hawkins, Wayne Clifton, Juanita Stanford, Jacky Irvin, Laura Robinson, Jimmy Whitehead, Helen Blaylock, Rayburn Flynn, Johnny Clifton, Barbara Evans, J. C. Hawkins, Justus Cole, Jimmy Black, Jack Homan, Earnest Harris, Patsy Otts, Jo Ruth Otts, Jerry Brown.
Fifth Grade: Joe Mack Hawkins, Mary Alice Salyers, Grace Clifton, Jack Brown, Wayne Irvin, Rebecca Irvin, Betty Flynn, Ralph Turman, Quenton Harris, Buford Godsey, Kary Warren, Shelton Godsey, Shirley McKay, Thomas Johnson.
Sixth Grade: Lionel Evans, Bobby Woolbright, Rex Guin, James Pennington, Larry Franklin, James Cole, Annie Sue Minor, Annie Ruth Blaylock, Annie Sue Flynn.
The above information was taken from a copy of the '1953 School Memories'.
The school was closed about 1961. The building today, is the Pine Springs United Methodist Church.
I am looking for a picture of the school building, a white frame structure, which was near the Pine Springs Church when the school was consolidated with Shiloh North School.
Queries of the week:
Barbara,
My great great grandfather Henry Benjamin Franklin Jaggars married Margaret
Mirinda Turman in Lamar County. My great grandfather William Plato (son) was born in Sulligent in 1884.
Pretty sure that the Jaggars in Sulligent are kin some how.
I am looking for the parents of Thomas R. Noe who married Mary ????
They were killed by a over night guest on December 1 , 1867 in Sulligent , Alabama.
Thanks again!
Robert Jaggars
Siloam Springs,Arkansas
MS B,
I descend from Mary Helen (Armstrong) Turman, and it would be a pleasure
to meet anyone in the family who has any interest in family history. I enjoyed the Pine Springs Cemetery website. I copied Pine Springs Cemetery several years ago, and was sad to see that some of the people who I knew and cared about have died since then.
Thanks so much for the good work you are doing. When I was doing most of
my research in the county there was hardly any interest. It's good to
see that people are beginning to compile excellent records and preserve
a truly fascinating history.
Vicki Murphy
If have any information on the above queries contact me at 205 698 9427; P. O. Box 579, Sulligent, AL 35586 or email coco @ fayette.net. Suggestions for this column are welcome. Thanks for your encouragement, your comments, and information that you have given me.
Check Lamar County Kin website htttp://www.fayette.net/carruth/lamar.html or MS B's Place http://www.fayette.net/carruth/
Helpful Hint:
A handy tip for inexpensive ice "gel packs"
Mix 3 cups of water and 1/4 cup of rubbing alcohol into a freezer bag.
Shake lightly to mix then place in freezer. The mixture will not freeze solid
but form a slush like gel. You can mix up bags in several different sizes. larger
bags for knees and arms, smaller ones for ankles and wrists.
And of course they travel well in an ice cooler.
See you next week!
Return to Lamar County Kin Index
Return to Lamar County Kin Main Page
Return to Just Across the Line