Lamar County Kin
By: Barbara Woolbright Carruth
Appeared in The Lamar Leader August 25, 1999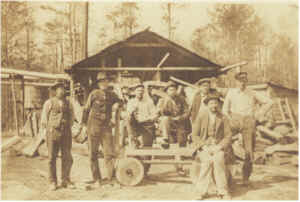 W. W. King and Stave Mill Crew 1918
King is second person from the left
1918 was a different day, my mother was 7 years old and things were not the same as today. Lost Creek Community ( also known as the Shiloh North Community) is located about five miles northwest of Sulligent, Alabama. Lost Reed Creek better known as Lost Creek runs through the community. according to legend, Indians gave the name to this place.
Families that have lived here in years past were connected to the Evans Family in some way, either related or moved in to work. Some of the families are Blaylock, Camp, Carden, Cleveland, Dorsey, Hawkins, Irvin, Jaggers. Jenkins, King, Lawson, Mozley, Nichols, Neathry, Noe, Pearce, Pickle, Paul, Ray, Strawbridge, Swain, Wright, Warren, and Woolbright.
Cotton, corn and soybeans have been grown over the years. Now, mostly pastureland, corn and soybeans. Stave mills were in the community in the early 1900's, later it wasn't uncommon for a sawmill to be in the community. The men would farm in the spring and summer and work at the mill in the winter.
Two cemeteries are located here, the Evans Family, the Blaylock and one church, the Shiloh North United Methodist.
In 1918, to make a living, most men in the Lost Creek Community farmed or worked at one of the stave mills. Leona Carden Lewis, who will be 98 in February of 2000, remembers when persons who worked at the stave mills would live in tents near the mill, and move with the mill, when it moved to a new tract of timber. Mrs. Lewis has told me about neighbors in the community delivering milk to the tents, so the workers and their families ( if the families were with them ) could have fresh milk to drink. For those of you who don't know, staves were narrow strips of wood, cut and used to make barrels and tubs. According to Bo Morris, local historian, oak timber was used. The staves were probably shipped out to a barrel company to make barrels. It seems that whiskey barrels were in demand. The pictures this week, made in 1918, are of a stave mill crew and the stave yard. My Grandaddy, Willie Washington King, is standing second from the left in the group picture. The other persons are unidentified. In the stave yard picture Grandaddy King is on the horse.
Willie Washington King , probably came to this area working with a mill. He was born March 23, 1876, the son of John Robert King and Sarah Margaret Lovelady King. He came to Lamar County as a young man from Winston County Alabama and met and married Sarah Telitha Evans on September 9, 1897. Sarah Telitha was born September 4, 1880, the youngest child of Richard Green and Nancy Ann Noe Evans. The Evans family lived in what is known as Lost Creek or Shiloh North Community near the Mississippi/ Alabama line.
Willie Washington better known as " Uncle Wash" and Sarah", better known as " Aunt Sarah" were loved and respected by all who knew them. Their children were: Clarence Green, Thomas Clyde, William Claude; Ruby Jane, Nancy Pearl, Connie Mae, Lula Bell, Carl Woodrow, Chester Clay, and Elenna Louise. Nine of these children were raised to adulthood.
The Kings suffered hardships and rough times during their years together such as in 1924, their home was destroyed by a storm, while the family was in the storm house. They had to start over. My mother, Lula B. King Woolbright, can remember the night the storm came, she was about 13 years old. The family was in the storm house and her father was standing at the door watching while their home was being destroyed. When they came out after the storm, the house was completely gone. It was night when the storm hit and her father carried them to a tenant house on the farm to sleep that night. They had to walk to the tenant house in the dark , the next morning they realized that the entire family had walked very near to a large open water well. The family lived in the tenant house and a tent until a new house could be built. You know, homeowners insurance was not around in that day, I can't begin to know how Papa King must have felt when everything they had, was taken away in seconds, and behind him in the storm house were these children looking to him to "make things better'! The next morning, Mother remembers that their clothers were scattered all around and the meat from the smoke house was also lying all around the place. This same tornado that took away their home, also destroyed and damaged other homes in the area and I have been told that a Mr. Dove was killed that night. Uncle Wash was a member of the Democratic Executive Committee and served as a community committeeperson of the PMA ( now Farm Service Agency). Aunt Sarah kept everything smooth around the house, if you can imagine "smooth" in that day with all these children and no running water, dishwasher, air conditioner or other modern conveniences.
The Kings believed in going to church and taking their family to church. They attended and were members of the Shiloh Methodist Church located less than two miles from their home. Usually after church, they had guests come home with them for "Sunday Dinner". Now this was in the day of "no microwave", nor Quick Fried Chicken and it was not unusual for a large crowd to be there for "Sunday Dinner" which of course was served at noon. Aunt Sarah always came through and the table was filled with tasty food, fried chicken, fresh as you can get; when she had just butchered the chicken and cooked it; country cured ham, and plenty of vegetables, fresh in the summertime or canned in the winter , corn bread, biscuits, and sorghum syrup, were always on the table. This food was cooked on a wood stove, I know that it was hot in that kitchen in the summertime. These were the days when fresh water to drink was drawn from a well in the yard and placed on a table on the front porch and drank from a dipper. Children carried their lunch to school in a bucket, which was probably to keep the ants out, and because they had no lunch boxes as we know them today.
Papa and Granny's home was a place for the visiting preachers to spend the night or during revival serves, spend the week. Their home was also a boarding place for school teachers. Anyone passing through the community at nightfall, that didn't have a place to stay, knew that they would be welcome at the Kings. Uncle Wash was one of the first people to get a car in the community and he was always carrying people to the doctor or trying to help with their needs. Bo Morris remembers hearing his daddy talk about Papa King and he has described him as the "Daddy" of the community in that day.
Willie Washington died 9/20/1950 and Sarah died 10/24/1962, they both left a legacy of supporting the church and community.
Taken from the Lamar Democrat, 1950
"Wash W. King Prominent Co. Citizen Buried"
"Final rites for Wash King prominent county citizen were held today (Wednesday) at Evins Cemetery with the local pastor officiating. Mr. King died Monday night at his home north of Sulligent. He was 73 years of age. Funeral services were held at Shiloh North Methodist Church where he had been a member for many years."
"He was loved and respected by all who knew him and for many years had taken an active part in all things for the good of his community, county and state. He was a member of the Democratic Executive Committee."
Queries of the week:
Delia B. Evans, wife of Tom Evans, Lost Creek, was my Great Grandmother. Before her marriage to Grandpa Tom, she was married to a GRAHAM, I think near Nettleton, Mississippi. He died about the time of the birth of their only child, my Grandmother Bessie Ophelia Graham. Grandma Delia traveled to Lamar Co and married Tom Evans. Her daughter, Grandma Bessie married William Walter Jaggers, son of William Richard Jaggers. (I have my Jaggers line back into the 1600's) My interest in contacting you is this, I have no info on Delia's parents or siblings. Also, I have NO info on my Great Grandfather Graham. If you know of anyone who has researched Delia's background, I would very much appreciate contact with them.
Thank you.
Chuck (Charles William) Jaggers
Barbara ,
Looking for information on the family of Perry Perkins Evans, b 3/8/1849, d 5/15/1918, Howe, OK. First marriage 9/10/1876 to Catherine Stone of West Alabama. Widowed with 4 children (Ida, Ada, Muncie, Jepp). Second marriage 8/19/1884 to Martha (Mattie) Elvira Metcalfe, born 11/25/1860, Lamar Co, AL, d 6/11/1932, Howe, OK. (Also her second marriage). Perry Perkins Evans was the son of Charles Collier Evans. The father of Charles Collier Evans was Noah Evans. Charles was said to have come from England. He married Doxie McDonald, who is said to have come from Holland. Charles was supposedly killed at age 45 in service to the CSA.
Mattie Metcalfe was the daughter of Virginia Ellen Bradley b 5/1/1843, "Auburn",Cumberland Co, VA, d 12/7/1925, Sulligent AL, m 12/23/1858 to Wiley St. Clair Metcalfe, b 10/9/1837, d 7/19/1910, Sulligent, AL. (Pvt, Co C, 16th Al Inf)
Thanks,
Bob Chada
Barbara,
Thanks for mentioning me in your paper. If you would like, mention Jones, Petty, Stewart, Holladay, Neal, Ward, Manasco, Baggett, Johnson, Moore, Pennington, Blair, Hodge, Dyer, Carter and Stegall. as families that I am researching.
Vickie Murphy
I have learned that that it's not what you have in life but who you have in your life that counts.
If have any information on the above queries contact me at 205 698 9427; P. O. Box 579, Sulligent, AL 35586 or email coco @ fayette.net. Suggestions for this column are welcome. Thanks for your encouragement, your comments, and information that you have given me. A special thank you to the man that I talked with outside of the Piggly Wiggly store last wednesday afternoon, you don't know what your words meant, your encouragement came at a time that I was feeling really down. Thank you again.
Correction to last weeks column: Troy Clifton born 8/25/1911, died 2/17/1981.
should have been included in the listing of persons buried at Pine Springs.
Check Lamar County Kin website htttp://www.fayette.net/carruth/lamar.html or MS B's Place http://www.fayette.net/carruth/
See you next week!!
Return to Lamar County Kin Index
Return to Just Across the Line