Lamar County Kin

Appeared in The Lamar Leader July 14, 1999

Appeared in The Lamar Democrat August 18,1999

By: Barbara Woolbright Carruth

About two years ago,I came down with a 'bug", the genealogy bug, which is as deadly as the "grandparent syndrome". Just as grandchildren take over your life, so does family history, that is, if you are really into it! You find yourself visiting cemeteries all the time and you always have a notebook, tape recorder and camera with you. While your friends are laid back enjoying life, you are someplace searching over old records, or driving miles and miles for a lead to a link. Through this column I plan to share information that I and other folks have collected. Each week I will feature a family, community or place of interest for folks with ties to our wonderful Lamar County! I am excited about this column and hope that you will be too! I have a web site on the internet on which have posted some of my information. The address is

http://www.fayette.net/carruth/. My telephone number is 205 698 9427; email coco@fayette.net; your comments are welcome.

This week I am featuring Shiloh North School with a picture in the early 1900's.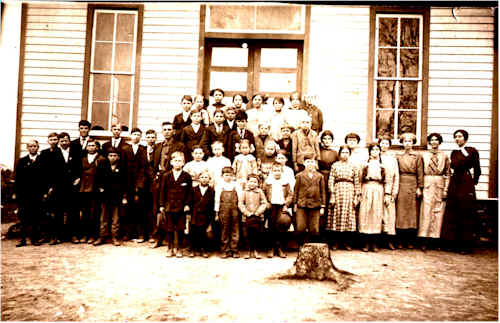 Families known to be represented in this picture are: Evans, Carden, King, Noe, Pearce, Rhudy,Strawbridge, White and Warren. If you can identify anyone in this picture contact me. Teacher was Clementine Gilliland Black.

A new Shiloh North School was built in 1909. There was a school building before this one, but

records fail to verify when it was built. The 1909 building was a white frame structure.. The school was located in the Shiloh North Community about 5 miles north west of Sulligent, Alabama in northwest Lamar County. Shiloh North Community is also known as the Lost Creek Community. The school building was in good repair when consolidated with Pine Springs in 1936. If the building was standing today it would be located on Jaggers Road.

See you next week.

Note: Barbara W. Carruth lives in the Lost Creek community near Sulligent, works with the Farm Service Agency in Hamilton, AL. She is marrried to Dewey Carruth, has two sons, Barry, currently serving with the United States Air Force in Saudi Arabia and Berney, who lives near Detroit; two daughters in law, Jenny and Samantha; three grandchildren, Casey, Summer and Annia.

Return to Lamar County Kin Index

Return to Just Across the Line