Lost Creek Community
Lost Creek runs through the community.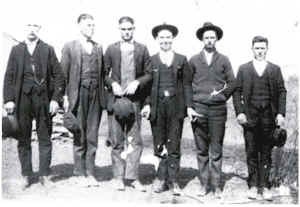 Left to Right: Tom Evans, Robert Carden, Andrew Flynn, Garless Evans, Carlos Rhudy, Jep Camp. Picture made before 1928.
Lost Creek Community ( also known as the Shiloh North Community) is located about five miles northwest of Sulligent, Alabama. Lost Reed Creek better known as Lost Creek runs through the community. according to legend, Indians gave the name to this place.
Families that have lived here in years past were connected to the Evans Family in some way., either related or moved in to work. Some of the families are Blaylock, Camp, Carden, Carruth, Cleveland, Dorsey, Evans, Hawkins, Irvin, Jaggers. Jenkins, King, Lawson, Millican, Mozley, Nichols, Neathry, Noe, Pearce, Pickle, Paul, Ray, Strawbridge, Swain, Wright, Warren, Woods, and Woolbright.
Cotton, corn and soybeans have been grown over the years. Now, mostly pastureland, corn and soybeans. Stave mills were in the community in the early 1900's, later it wasn't uncommon for a sawmill to be in the community. The men would farm in the spring and summer and work at the mill in the winter.
Two cemeteries are located here, the Evans Family Cemetery and the Blaylock Cemetery. One church, the Shiloh North United Methodist.