Lucas Cemetery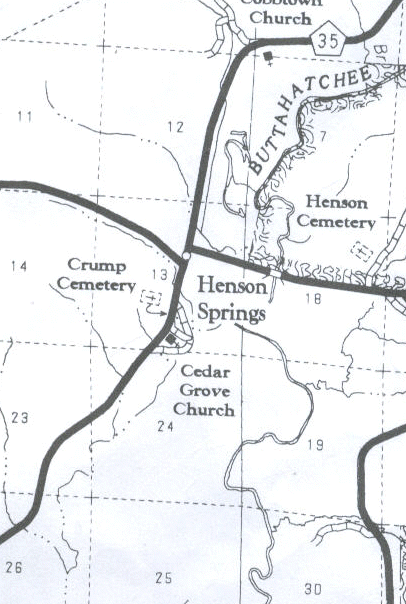 Located off River road or County Road 35. Traveling from Hamilton, past Cedar Grove church, turn right before Doris Crump Stanford's house. There will be a narrow dirt road going up to the cemetery. There is a Lucas Cemetery sign on the highway. Cemetery is located back in the woods a good distance. Don't give up you will get there. Distance from Cedar Grove Church is probably close to .5 mile.
List of known persons buried in the cemetery.
Thanks to my husband Dewey Carruth, Commissioner of Lamar County District Two, and his crew, this cemetery has been reclaimed. For years there was not a road into the cemetery. Mrs. Lula Belle Webb requested a road into the cemetery so that markers could be placed on unmarked graves and graves could be decorated as is a tradition in our county. Commissioner Carruth was able to fulfill this request and build the road after obtaining permission from landowners.
1 Charlie Duncan
2 Minerva (Warren) Duncan wife of Charlie
3 William Earl Duncan, 1st child of James Robert & Rosalet (Franks) Duncan. Lived about 2 months.
4 Clem W. Johnson
5 Angeline (Duncan) Johnson, wife of Clem
6 Loronzie Channel
7 Hattie (Duncan) Channel, wife of Loronzie
8 Elmer & Velmer Channel, Twin Babies
9 J. C. Channel
10 Sely Channel
11 Billy Jack Lucas, 9 month old son of Ace Lucas & Etta (Duncan) Lucas.
12 Wife of B. M. Collier
13 Daughter J. M. Collier
14 Tabitha Dodson
15 L. H. Collier, Son of B.M. Collier
16 C. V. Collier
17 J. E. Seaborn 12/4/1872-7/26/1885
18 G. G. Palmer
19 Mose Duncan 5/23/1884-1952
They are many more graves of people only marked by stones.
This was indexed by Lula Belle Webb & Lois M. Tyree