Webb School Lamar County, Alabama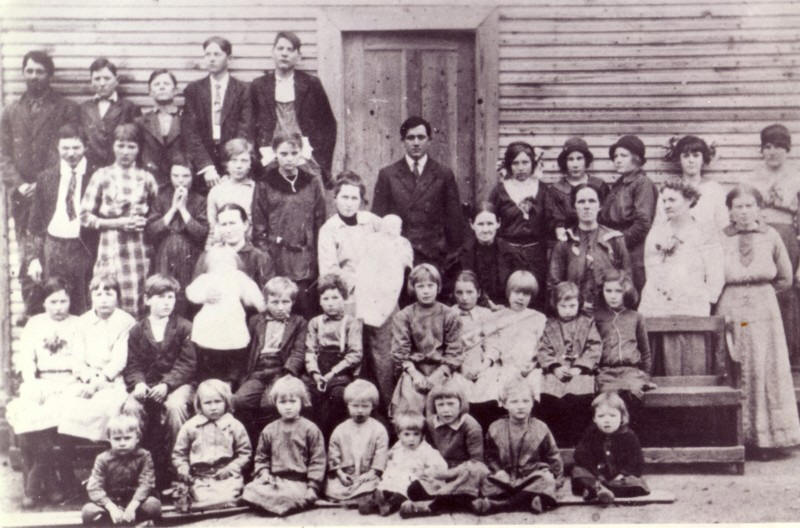 Scrouge Out School picture courtesy of Veneta Aldridge McKinney.
Correction to picture posted earlier as Webb School courtesy of Veneta Aldridge McKinney.
I received this note from Veneta "I'm afraid that I mistakenly sent in some erroneous information. My parents just saw the article in the newspaper about Webb School and informed me that I had my information wrong. The picture that I submitted was not Webb School, but rather it was of "Scrouge Out." I always thought the two schools were the same and that the school was moved to the place across the street from Union Chapel where the Historical Marker Sign is and that the picture was taken there across from Union Chapel. It wasn't. Scrouge Out was a school of its own. It was located on Hwy 16 close to where Burleson Farm is now. All other information submitted was correct as far as I know. Therefore the name of the picture needs to be changed to Scrouge Out, not Webb. Also, the location needs to be changed to Hwy 16 close to Estill Branch (Creek). I apologize for the misinformation".
I appreciate Veneta's contributions to this site and to the Lamar County Genealogical and Historical Society. Thanks you Veneta.
Note from Veneta: I have found a picture of my grandparents of "Scrouge Out". It was taken around 1915. It is my favorite picture of my grandparents because Erie Cantrell and Clemmie Estill were sitting side by side - when they were 4. They were married many years later and remained side by side until he died in 1997.
According to what my grandmother said, the people are as follows:
Back Row: Willis CANTRELL, Elbert STANFORD, Troy STANFORD, Grady ESTILL, Lonnie STANFORD.
2nd Row: Jyles ESTILL, Alice CANTRELL, Lizzie MCCLEAN, Florence CANTRELL, Clairie ESTILL, William CANTRELL, Zella ESTILL, Elvie MINOR, Georgia CANTRELL, Berla CAUDLE, Edna CANTRELL
3rd Row: Naomi ESTILL, Clyde ESTILL (baby), Eliott STANFORD, Cradis Webb (baby), Matilda ESTILL, Ziony CANTRELL, Amelia ESTILL, Maggie CANTRELL
4th Row: Maggie MINOR, Florence CANTRELL, Willard WEBB, Andy ESTILL, Chapman HUDGINS, ?, ?, ?, Kristine ESTILL, Floy CANTRELL
Bottom Row: Erie CANTRELL, Clemmie ESTILL, ?, ?, Norman CANTRELL, ?, Rudy Lee ESTILL, Estelle CANTRELL
This page owned by Barbara Woolbright Carruth, Sulligent, Alabama. All information on these pages is furnished for the free use of those who are researching their family history. Any commercial use, or other electronic posting of any files/pages without the consent of the MS B or donor of material is prohibited.