Shiloh North Methodist Church History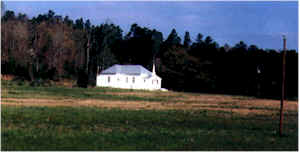 The Shiloh North Methodist Church located in the Lost Creek Community ( also known as the Shiloh North Community ), about 5 miles northwest of Sulligent, Alabama, records date back to 1881. The church was one of a seven church circuit. According to the Detroit United Methodist Church history, the circuit consisted of the Center Point, Detroit, Ebenezer, Henson Springs, Shiloh North, Pine Springs and Wesley Chapel Churches. The Detroit Church was located in Detroit. The Ebenezer Church was located on County Road 19 near the border of the Lamar and Marion County line. The Henson Springs Church was located near the intersection of County Road 16 and River Road. The Center Point Church was across the Mississippi State Line in the Sipsey Fork Community. The Ebenezer, Henson Springs and Center Point Churches do not exist today. In 1913, the seven church circuit was reduced to a four church circuit known as the Detroit Circuit.
Today Shiloh North is not part of a circuit but has a full time pastor.
In the minutes of a Church Conference that was held at Shiloh Church on December 22, 1895, Robert Wilson was pastor. The Church is listed as the Methodist Episcopal Church, South, of the Jasper District North Alabama. William C Evans was elected Secretary. Brother Tom Evans, Class Leader, made his report that two class meetings had been held with reasonably good success. J. C. Mozley, Superintendent of Sunday School, made his report that the School was doing well and that literature of their own church was being used and would continue through the winter. The Stewards had no report. The next Church Conference was set for the fourth Sunday in February 1896.
Shiloh North Church hasn't always been at its present location. The church was located near the Carden barn, but in the early 1900's, the woods nearby were being burned , as was a common practice in that day. The fire burned out of control and the church building was destroyed. Worship services were held at the Shiloh School , which was located across the creek until a new building could be built.
According to a letter written by the late Mrs. Ruby Walden Wright to the Church, everyone in the community came together and made plans for a new church building. The lumber for the building was sawed by her husband, William D.
(Dick ) Wright and hauled to Sulligent where it was dried and finished. The men in the community all helped in some way and of course the women did too, with cooking for the men, while they worked and after completion of the new building, cleaning and making ready for services to be held. The new church was finished around 1920.
It has been a tradition for revival services to begin the second Sunday of August each year.
A list of early members or families in the church found, believed to date early 1900. Persons listed were: James D. Blaylock, Dona Blaylock, William H. Blaylock, Eliza A. Blaylock, Thomas E. Blaylock, Adina T. Blaylock, James N. Blaylock, Malinda A. Blaylock, John R. Blaylock, Maud V. Blaylock, Ida Blaylock, William Blaylock, Lula J. Blaylock, Samuel F. Blaylock, Redona Blaylock, John Escar Blaylock, Jeffie Lona Blaylock, John Robert Blaylock, Walter G. Blaylock, William Blaylock, JR, Willie Franklin Blaylock, Vera Blaylock, Martie Brandon, Starling Camp, Zula Camp, Clyde Camp, Mary Malinda Camp, Martha C. Camp, Midas O. Camp, Ila L. Camp, Thomas B. Camp, Ella Camp, Jeptha Camp, Bennie Cox, Adline Carden, Robert Carden, Sarah Jane Carden, Mollie Dorsey, Narcissa Jane Evans, Nancy Ann Evans, Benjamin W. Evans, Elizabeth J, Evans, Ardis W. Evans, Wilma L.Evans, Verland L. Evans, William C. Evans, Campie O. Evans, William T. Evans, Adelia B. Evans, Walter G. Evans, Eddie Evans, James T. Evans, Marrie R. Evans, Anna Bell Evans, Ida J. Evans, Emma Jane Evans, George L Evans , William E. Evans, William Ives, Buel C. Irvin, Emily Irvin, Icy V. Irvin, Elizabeth Jaggers, Oscar Jaggers Azale Jenkins, Bessie Jaggers, Lela Jaggers, W. W. King, Sarah King, Clarence King, Clyde King, William Claude King, Zadie Lawson, Myrtle Lawson, James L. Mozley, Arvilla Mozley, Ellen Mozley, Merlie Nichols, Cara May Neathry, T. G. Nethery, Eveline N. Pearce, Ola M. Pearce, Roft S. Pickle, Susan E. Pickle, Ada Pickle, Archie Pickle, Lyde Paul, Grady Paul, James M. Ray, Malinda E. Ray, Francis M. Ray, S. M. Strawbridge, Fennie Strawbridge, Nollie Strawbridge, Eddie Strawbridge, Margaret Swain, Hartie Swain, Zora Swain, W. T. Wright, Luella C. Wright, Willie Wright, Vera Wright, Lillie Wright, A. W. White, Pink White, Ellis White, Lonie White, Lula White, Zena Warren.
The oldest living members today are Dora Camp, Avist Carden, Connie Cobb & Lula B. Woolbright.
Written by: Barbara W. Carruth. P. O. Box 579, Sulligent, AL 35586
Source : Church Records and Detroit Directory
Click here to return to Lamar County Kin
Click here to return to Ms B'S Place