INTRODUCTION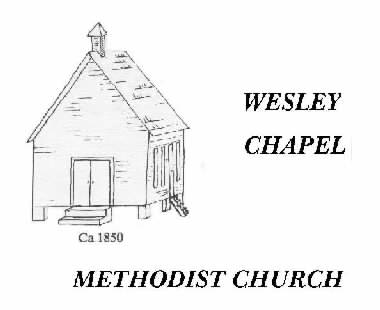 Wesley Chapel Methodist Church And Cemetery

in Fayette County, Alabama

(

SWl/4 , of NW 1/4 Section 7, Township 16-S, Range 13 W)

The information contained here was compiled and combined from several sources. The "Wesley Chapel Methodist Church Cemetery" copied by Herbert M. Newell & Jeanie P. Newell on August 7-8, 1958 and "Wesley Chapel Methodist Church" compiled by Gladys Gilreath Brown in 1984 and published by her in 1984 were the two most important. I used the works of Gladys Gilreath brown and added all of the name published in Herbert & Jeanie Newell's work. The single thing that most motivated me to initiate this project was the text inside of the back cover to Gladys Gilreath Brown's book. "The history of the past is a matter of too much importance to be thus neglected, and we shall regret some day that we have note made more effort to preserve it in some systematic form." I met Herbert M. Newell and Gladys Gilreath Brown in May of 1999 when I took a genealogy research trip to Alabama and Mississippi. I am a Bobo descendant and know that Herbert and Gladys are also Bobo descendants. The original 40 acres for the

site of the Wesley Chapel Methodist Church and Cemetery was provided by Edward & Sarah F. Bobo. I would like for all who see this effort to please contact me with any updates or corrections to the information herein contained.

Theodore A. Edwards

2760 W. Retread Rd.

Pahrump, NV 89048-4437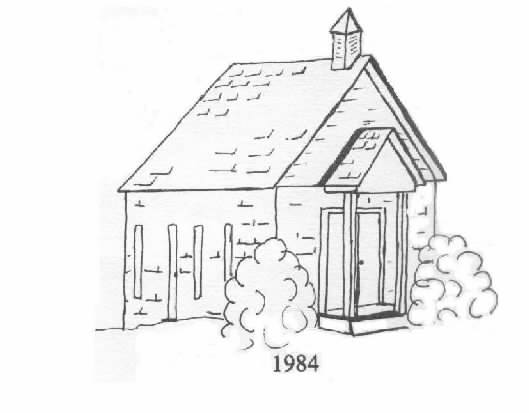 Wesley Chapel Methodist Church
State of Alabama
Fayette County a I, B.W. Williams, Judge of Probate of said county , hereby certify that the fore-going deed with certificate of record was filed in office for record the first day of February 1875 D and was duly registered in book of deeds, read pages 352-353 of records of deeds of my office, given under my hand at office the 3rd day of February 1875.
B.W. Williams, Judge of Probate
Edward Bobo deed to Trustees of Wesley Chapel Church, State of Alabama, Fayette County.
This indenture made and entered into this the first day of January 1875, Between Edward Bobo and Sarah Bobo, his wife, of the first part, and Stephen Yarbrough, Willis Yarbrough, Cummins Gilreath) Frances M. Bobo, Baswell Newman and Hiram Yarbrough as Trustees of Wesley Chapel Church of the second part. For the use and benefit of said church to be retained for the use and benefit of said church, at said place, but not as church property that may be held and used as the property of the Methodist Episcopal Church South, nor shall it be transferable by said Trustees or any other authority of said church located on the same land and for no other purpose, for and in consideration. of the sum of six dollars, to them in hand paid the receipt where of is here by acknowledged , hath granted bargained, sold and conveyed, and doth by these present, grant, bargain, sell and convey as, and in the manner above stated to said second party as Trustees and to Their Successors in office as such Trustees, all that tract of land known as the SWl/4 , of NW 1/4 section 7, township 16-S, range 13 W, in the Tuscaloosa Land official district, to have and to hold to the said of second part, and their successors in office to hold as a place of worship of almighty God, for the full privilege of retaining any building and privileges of church worship of God, and the first party doth hereby warrant and defend the right and privileges here conveyed, from any person or persons claiming said land, also from the claims of the federal government
In testimony whereof, the afore said parties of the first part hath hereunto set their bands and officiated their seals, day and date above written.
Edward Bobo Sarah F. Bobo
Foreword
This book is prepared for those who have a deep feeling of love and gratitude toward their ancestors, whose perseverance and fortitude, established a place of worship for us many years ago and called it Wesley Chapel Methodist Church
May we ever strive to keep it alive !!!
Published 1984 & Compiled by,
Gladys Gilreath Brown
5215 Cody Road
Kennedy, Ala., 35574
Cover Art by Rose Pearce
The lines are fallen unto me in pleasant places,
Yea: I have a goodly heritage !!! Psalms 16 - 6
Wesley Chapel Methodist Church
I have not been able to ascertain exactly when Wesley Chapel Church was organized, but I feel that it was about 1850, because the Charter Members (Ancestors of many of us here today) came from South Carolina and settled in this area in 1844. I can not believe they would have spent twenty five or thirty years here before starting a Church.
The first building might not have been exactly where the present one is, but again , I feel that it had to be near by, because a, the many unmarked graves and old markers in the cemetery that date back into the eighteen sixties.
I have searched diligently for old records in Fayette and Lamar counties, and in the Archives and History department at Birmingham Southern College and at Millsap College in Jackson, Miss. where all Methodist records are kept ( The Miss. conference covered the Ala. district for many years, before the Ala. conference was formed) but found very little help, so most of this history will be tradition that has been handed down from our ancestors across the years.
(Please read quote in back of book on Local Church History, and you will understand my problem).
According to old records found , and to tradition, the Charter Members were Allen, Bobo, Edwards, Gilreath, Newman, Taylor, Yarbrough and perhaps others unknown to us.
In later years,(the early nineteen twenties) other good families became faithful members, the Bohannons, ColIins Gills, Hindman, Windham and others.
Lewis Bobo, who came to Ala. in 1844 with our Ancestors from South Carolina, was a carpenter by trade, so he and his brother Edward , along with the other early settlers built the first building to worship in.
In 1875 Edward Bobo and wife Sarah Bobo deeded forty acres of land, where the present building and cemetery is, to the Trustees of Wes1ey Chapel Church and to their successor in office as Trustees. (There is a copy of this deed inside the front cover of this book.)
The Trustees were Frances M. Bobo, Cummins Gilreath, Baswell Newman, Hiram Yarbrough, Stephen Yarbrough and Willis Yarbrough
Frances M. Bobo was born in 1828, in South Carolina and came to Fayette County Alabama in 1844.
Cummins Gilreath was born in 1826 in South Carolina , he too, came by wagon train to Fayette county Alabama in 1844, Cumins married Vinie A. Bobo, daughter of Levingston and Sarah Rainwater Bobo.
Baswell Newman was born in 1844 son of Fanton Daniel and Julia Cassie Wilson Newman.
Hiram Yarbrough was born in 1828 in South Carolina, son of John and Sallie Miles Yarbrough.
Stephen Yarbrough was born in 1818, in South Carolina, the son of Humprey and Mary Blackstock Yarbrough.
Willis Yarbrough born 1817 in South Carolina, was also a son of Humprey and Mary Blackstock Yarbrough, who came to Alabama in 1844.
(Another Frances M. Bobo was born in Alabama in l867, son of Bardham and Elizabeth Yarbrough Bobo, this Frances M. was a grand son of Edward and Sarah Bobo, who deeded the forty acre of land to the Trustees of Wesley Chapel Church in 1875 ).
Wesley Chapel Church became a camp ground at one time, cabins were built and families would go and stay for weeks at the time for revival services.
I have not been able to learn just what happened, but this original church body split up for a few years, and a group of Apostolic Holiness obtained a written permit to hold services there for several years, preaching there during this time was Rev. Wiley Newman, Ms. Etta Newman and Tom Harrison.
The first building that we have any record of burned around 1911, and another frame building was erected several feet west of the existing building.
When this building was built, Leona Gilreath Bobo, walked and made up money to purchase the bell that is in the church belfry now, her daughter Myrtle Bobo Stokes remembers accompanying her Mother on the mission in the communities.
Myrtle was converted and joined this church during the ministry of Tom Harrison there , and she has a great love for this old church, she used to play the old pump organ while her father, Curtis Bobo led the singing.
I have been unable to find any record of Wesley Chapel ever being officially entered into the North Alabama Conference.
For many years Wesley Chapel was on the Covin Circuit, with Covin and Mount Vernon churches, sharing a parsonage built near the Mount Vernon Church.
In 1952 Mount Vernon church was taken off the Covin Circuit, taking the parsonage the three churches had shared, so a new parsonage was built near the Covin church.
For the next four years after this, 1952-53-54-55, Covin and Wesley Chapel are listed as being on Fayette Circuit.
In 1956 it went back to Covin Circuit, consisting only of
Covin and Wesley Chapel Churches for the years 1956 -57-58-
59-60-61 and 62.
In 1963 this changed to Covin -Oak Grove circuit , this arrangement lasted until 1967, when it was once again called Covin Circuit, with only Covin and Wesley Chapel churches. Michael Carr served the two churches in 1967, James Gibson pastored there in 1968-69.

In 1970 the Covin Circuit was dissolved and Wesley Chapel was merged with Covin, and called Covin- Wesley Chapel, it then became a satellite appointment of Fayette First Church, Jerry Sission was pastor at Fayette at that time.

This was a sad day for many people that loved Wesley Chapel, an old church that had stood like a mighty fortress across the years, touching and influencing many lives.

I, for one, often go back in memory to early childhood days, and Acts chapter 4, verse 31, always comes to mind (And when they had prayed the place was shaken where they were assembled together, and they were all filled with the Holy Ghost, and spake the word of God with boldness ) the hallelujahs would ring as those dear old saints shouted praises to our Savior and Redeemer.

But now (1970) the active membership was small, so they locked the doors and called it a closed pulpit.

For thirteen years there was only one service each year, The fourth Sunday in May has always been home coming at Wesley Chapel , and people come from far away places to visit with loved ones and friends and to honor the memory of dear ones gone before us, whose memories will always live in our hearts.

But !!! there were a few people who continued to love the old Church, and prayed faithfully that one day it would be an active church again, and tho we often heard words of discouragement we held onto Gods promise that, (Where two or three are gathered together in my name, I will be in their midst ) he also tells us to Wait Upon The Lord.

So ! we waited and prayed with faith, believing.

God does answer prayer, and when his people follow the leadership of the Holy Spirit, and humble themselves and pray, things happen for His Glory and their good.

After thirteen long years, in 1983, God sent a spirit filled ,dedicated Christian man to the Fayette Charge. Brother Herb Williamson, a man with a love and concern for the old church and the people that loved it.

Brother Herb began to talk to people and found a sincere desire in the hearts of many to see Wesley Chapel an active church again, so he recruited Wayne Gilreath, James Crowley, Otto Bohannon and others to work with him and great things began to happen.

We had services on a fifth Sunday morning, followed by a business meeting to discuss the feasibility of re-organizing the church, there was a sweet, sweet spirit there, that had to be the presence of our Lord.

Brother Herb suggested having a few days revival, feeling this should be the first step in getting the church started and truly he was right, several joined the church and others re-dedicated their lives to Christian service, and in exact six months from this first service and meeting, Wesley Chapel was an active church again.

On August 21,1983, Wesley Chapel was officially re-organized and put on the Bethlehem - Wesley Chapel Charge. Our District Superintendent, Dr. Bob Archibald, presided at the conference. Ronald L. Gillespie is the pastor.

The known men pastoring at Wesley Chapel were,

H.M. Brock (Years unknown)

Wiley M. Miles (Years unknown)

William Miles (Years unknown)

Jacob Wilson (Years unknown)

John Sebron Gilreath (Years unknown)

E.Perkins (Years unknown)

L.L. Jones (1923-26)

T.I.Wilson (1927-29)

A.S. Osborne (1930-39)

J.W.Dowdle (1940)

L.P. Martin (1941-43)

N.O. Bridges (1944-45-46-49-50-51)

L.E.Beasley (1947-48)

Robert Story (1952)

B.B Hughes (1953-54)

Wm. J. Fuller (1955)

Charles Harper (1956)

Horace Killen (1957-58-59-60-61)

W.Hurt Smith (1962-63-64-65)

Michael Carr (1967)

James Gibson (1968-69)

George Gilreath (Years unknown)

John Sebron Gilreath,(my grandfather ) preached at Wesley Chapel in the early years, and 19m sorry and embarrassed that I do not know the exact dates. He was born May 25, 1853, near this church, the son of Cummins and Vinie Bobo Gilreath, was married December 23,1874 to Martha Elizebeth Newman (by Rev. Wiley Miles, Methodist Minister) daughter of William Perry and Rebecca Yarbrough Newman. Cummins and Vinie and William Perry and Rebecca were charter members of Wesley Chapel Church.

L.L. Jones, (1923-26) was born April 29,1888 in Blount county Alabama, married September 16,1908 to Della Mae Hardin, attended Snead college, was licensed to preach in 1913, admitted into the conference in 1915, he served fifteen circuits and was serving at Belle Mina when his health gave way, he suffered intensely for ten months and passed away August 31,1951. B.F. Tingle, his memorialist, stressed particularly his consecration, saying also he was a man of many gifts, an excellent pastor, a gifted evangelistic preacher. Funeral services were held at Belle Mina, and a second service at Forrest Hill Cemetery in Birmingham, with more than a hundred preachers attending, he was greatly loved by his brethren..

Tony Hampton Wilson (1927-29) was ordained to preach in 1922, and retired in 1956 due to bad health, he was the son of a Methodist Minister, Robert Lewis Wilson, he also had a brother minister, Robert Cert Wilson.

Alexander Stephen Osborne, (1930-39) was born July 16,1883 in Bowman Georgia, he came with his father to Alabama in 1899, was converted at Hackleburg, Ala., at age sixteen , he was admitted to the conference in 1917 and served many circuits until ill health caused him to retire, he died December 10, 1942 in Wilsonville, Ala. and is buried at Vinemont. Brother Osborne was one of the dearest Christian men I've ever known, his life was an inspiration to all that knew him.

J. W. Dowdle (1940) was born April 27,1880, in Pickens county Ala., he died June 18,1950 in Talledega, and is buried in Andrews Chapel cemetery at Ethelsville, Ala.,

L. P. Martin (1941-43) was born September 27,1892 in Wilson county Tennessee, was admitted to the North Alabama Conference in 1925, died October 20,1950 in Walnut Grove and is buried at Valhalla.

M. O. Bridges ,(1944-45-46-49-50-51) was born January 30-1907 in Decatur, Morgan county Alabama, married April 25,1924 to Bertha Estelle Wood, was licensed to preach in 1939 at Johnson's Chapel in Morgan county, served several circuits before ill health caused him to retire in 1955, however1 as his health permitted he conducted revivals and supplied where needed until his death January 7,1976, he preached his last sermon at Sands Springs on Sunday before his death, he is buried in Mount Vernon Methodist

Church cemetery, in Fayette county Ala.,

L. E. Beasley (1947-48) entered North Alabama Conference erence in 1924, retired in 1951.

George Gilreath, another son of Cummins and Vinie Bobo Gilreath, is listed as a Circuit Rider Methodist Minister and we feel that he preached at Wesley Chapel , as he was born and reared near the church, he died in 1905 and is buried in Wesley Chapel cemetery.

There were many people in Wesley Chapel Church, whose daily lives preached a great sermon, and they led souls to the Lord, even tho some of them could not even speak in public.

The oldest living member is Mrs. Addie Bobo Newman, age 95 years, she has been a life long member of this church, she would walk to church each time there was a service, and a good distance too. In 1969 her son Dalton, who was also a faithful member here passed away and she had to go to live with her daughter Conela , and her husband Edd Crowley near Kennedy. I'm sure every one that really knows Ms. Addie, would join me in saying she has been a great Samaritan1 a dedicated Christian lady, and an inspiration to us all.

The Miles Rainwater family contributed much to Wesley Chapel Church, they lived near the church, and tho they were Baptist, they attended church here most of the time and worked in the church. Miss Autie taught a Sunday School class and played the Organ and Piano for years, One son Clinton made a Baptist minister, another son A. J. taught many singing schools here.

Arlie Bobo, a native son, preached his first sermon in this church, and went on to pastor many Methodist Churches before he retired. Arlie was a son of Ira and Catherine Collins Bobo.

Ernest Newman, a life long member at Wesley Chapel, answered the call into the ministry late in life , but was serving at the time of his death in 1975, he was the son of Sim and Samantha Abbott Newman.

Johnny Joe Estes, a native son, attended church here as a child, and is now a Methodist minister, pastoring in Huntsville , Ala. at this time.

Kenneth Bohannon, whose parents and grand parents were faithful members here, entered the ministry at an early age and is now a Methodist minister.

Robert Collins, son of Luther and Ella Collins, long time members at Wesley Chapel, is now a Free Will Baptist minister.

Jimmy Hankins attended church here as a child and is now a Baptist minister, his grand parents Mr. & Ms. Joe Frank Collins were life time members at Wesley Chapel.

The building we worship in now , is the third building that we know about, and we can not be sure there wasn't another in the long ago , the present building was built in the nineteen forties, under the leadership of M.O. Bridges.

This Wesley Chapel Church is located in Fayette county Alabama, in the SW 1/4 of NW 1/4, section 7, Township 16 S, Range 13 West, about two miles northeast of Belk, Alabama. ( There is another Wesley Chapel Methodist Church in Fayette county, it is in the extreme southwest corner of the county, and is on the Kennedy-Unity Grove charge).

Wesley Chapel has about thirty active members, with several others living away who love and support this church.

At first after getting re-organized in August 1983, there was just one service each month, then two, and now there are services each Sunday morning at nine o'clock, followed by Sunday School.

The building has been painted, carpet installed, water pumped to the door, and plans under way to build a fellowship hall, Sunday school rooms and rest rooms. Praise God !!!

To Brother Herb Williamson, his co-workers and to each one that helped in any small all way, we will always be grateful to you.

We thank God for lending Brother Herb to us for awhile, may he always keep him safe in the hallow of his hand, and continue( to bless him and his good wife.

Dear friends the battle has just begun, we must not give up the fight, each victory will help us another to win and we must continue to work and pray, if we really want Wesley Chapel to remain an active church.

So we proclaim !!! To God Be The Glory, Great Things He Hath Done.

Blessed be the name of the Lord !!!

Local Church History

From a Church Publication

Copied by Gladys Gilreath Brown 1984

We have recently had some experience in hunting up the history of certain local churches. What is true of them is no doubt true of many, if not most other churches, the history of their organization and of their early years is fast being lost.

It can be found now only in the somewhat uncertain memories of some of the old members of the church or community, or in brief and often confusing records kept first by one person then another.

There is nowhere to be found a systematic and correct record of the organization and work of many of our churches, from year to year, such as could be made the basis of future history.

This state of things should not be permitted to continue. The history of the past is a matter of too much importance to be thus neglected, and we shall regret some day that we have note made more effort to preserve it in some systematic form.

What we want, therefore, is for some one to take it upon himself (or let him be appointed by the proper authorities) to gather up the facts and put them in proper form for future reference.

The fact is, if we wait a little longer, until a few more of the old members of the church have passed away, and the few stray records or other sources of information have been lost or destroyed, it will be almost impossible, if not entirely so, to learn anything about the early organization and history of many our churches and associated institutions.

Return to Wesley Chapel Main Page

Return to Lamar County Kin Index Page