Monroe County, Mississippi "Just Across the Line"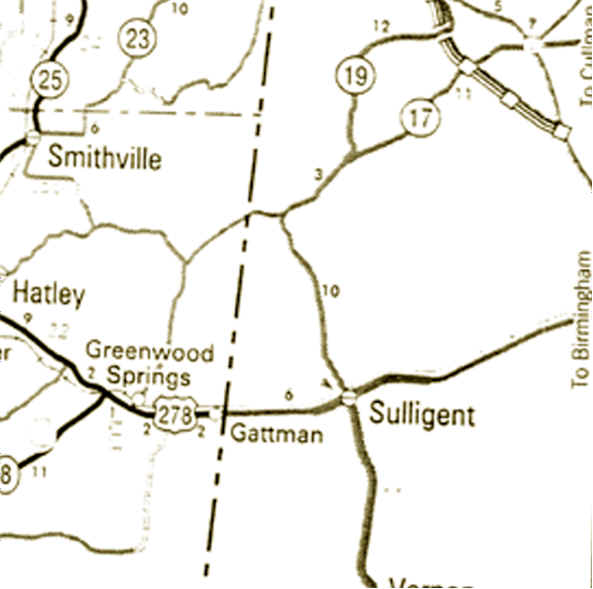 Welcome to "Just Across the Line". This site carries information on families that lived on either side of the Alabama/Mississippi line in Monroe County Mississippi or Lamar County Alabama in the late 1800's and early 1900's. I live in the Lost Creek Community in Lamar County, AL, " just across the line" from the Sipsey Fork Community. I grew up hearing " Oh, they live just across the line", when giving directions to a person's home. Some of these folks were related and just separated by the county line, others were friends through the years. As a young girl, I grew up feeling safe, whether in my home community, the Sipsey Fork Community or Greenwood Springs Community. Through this site I want to share information that I have collected on these families. If you have corrections or additions they are welcome. Click here to email MS B.
I am Barbara Woolbright Carruth (MS B ). I was born into the home of Hobbie Lee "Jack" Woolbright and Lula Bell King Woolbright on June 14, 1945. My Mother has told me that she thought she had already had her family and didn't want another child when she found out that I was on the way! In later years,( she is 88 now) she has told me that she is glad I am here!
I also have a page " Lamar County Kin". if you want to visit this site click here.
National Benelovent Society Picture
Bartachatchie & Morman Springs
Blaylock Cemetery, Lamar County AL
Crenshaw Cemetery, Monroe County, MS
Picture of the old Greenwood Springs Hotel
Richard Green Evans Family Picture
Irvin School Picture courtesy of Johnny Northington
Irvin picture courtesy of Marvin Irvin
Lamar County Kin Newspaper Column Reprints
Tillman and Lettie Webb Irvin Family Picture
Sipsey Fork Community "Turn of the Century" School Picture
Sipsey Fork Community School Picture( Centerpoint) 1912
"School Days" at Centerpoint by Floree Ray King
Click here to return to Ms B's Place
Click here to return to Lamar county Kin